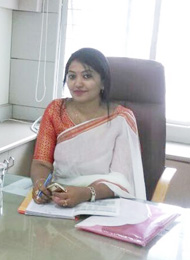 About The Founder & President of SAMMAN FOUNDATION
"Right to Dignity"
Mrs. Nidhi Shine, the founder and president of 'Samman foundation' an educationist by profession is also the Managing Director of OCEANIA Group, with the group companies diversified into international trade, retail, shipping, transportation and supply chain management.
She had always been associated with various social causes thought out her career, hence always carried that passion of repaying to the society. This NGO "SAMMAN FOUNDATION " is a result of her years of efforts and hard times put into the development and upliftment of Women and Children of rural and backward areas.
Founders Message: Mrs.Nidhi Shine
I strongly believe being treated with dignity is a right of every individual. SAMMAN focuses on improving the overall living standards for these women and children from backward areas by providing them opportunities for earning their livelihoods, educating them for a better living and personal hygiene. We endeavour in a humble way to reach underprivileged women & children, give them an encouraging new lease of life. Through development, relief and advocacy, we strive to create lasting change in the lives of children.
My experience over the years has shown that if we limit our programmes and investment to just directly impact the child, the change will not be sustainable. For sustaining the well-being of children, we need to equip the families and communities socio-economically; hence, our approach to child well-being is community-based and involves multiple programmes. Our investment in children, their families and communities are often in areas such as economic development, education, health and leadership development, against abuse, & so on. We work closely with community-based organisations, government, other NGOs, and civil societies.
We empower women; offer them vocational skills training to enable them to lead lives of financial independence and self-esteem, help in women's health issues, increasing awareness and fighting violence against women is among our priorities.
'SAMMAN' seeks to learn from and co-operate with others for continuous improvement to serve the community better. Carrying out various activities, our organization co-operates with the government, local governmental bodies, local and international organizations, foundations, mass media and the private sector. We continue to look for new partners and allies to collaborate with, including UN, organizations within employers groups, employee organizations, rehabilitation organizations and other international agencies, medical professionals, rehabilitation professionals, architects, policy makers, researchers and others. Co-operation with other stakeholders make our work more meaningful and we share visions and goals with many other organizations and institutions.
Strengthen our hands to create a better tomorrow and a better nation. The awareness created through this website and the support extended by our supporters and well wishers gives us the courage to carry on in our endeavors.
I, on behalf of 'SAMMAN FOUNDATION', urge the privileged to share their blessing with the lesser privileged.
Come join us in our mission of peace and prosperity above all Dignity for everyone.